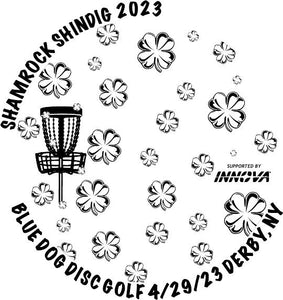 Welcome to our 11th annual Shamrock Shindig.  This year we will be playing 2 rounds of 18 holes with a break in between for lunch. We will be playing drandrom draw doubles disc golf.
Our course will consist of our 9 hole executive disc golf course and an additional temporary 9 holes will be added for the day.
The cost of play -$30 ($5 pay out, $5 ace pool, $5 Course Fee, & $15 custom stamped disc) -$5 for Blue Dog Members. 

Kids division- Ages 9-12 is available and the kids will play 18 holes. $25- comes with custom stamped disc, Blue Dog Towel & Innova sticker set. 
Lunch is available & most be pre ordered. Soup, sammich ,fries and soda with cost $15.
Everyone signs in at the Pro shop located at 1105 Wisconsin Rd at 9am -930am before reporting to the course located at Suncliff on the Lake.