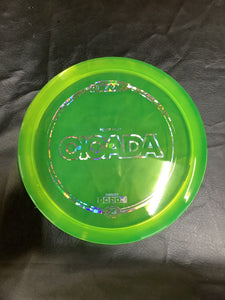 Lemon yellow disc with a metallic pink flower stamp. Flower power! 7/6/-1/1
Discover the First Run Cicada, Discraft's latest in the realm of fairway drivers. A disc that soars beyond the ordinary, echoing the lore of its namesake. Fashioned from Z plastic, the First Run Cicada ensures lasting beauty and performance. Its durability mirrors the tenacity of the cicada which has stood the test of time.
With a trajectory that's undeniably straight, the Cicada is a force to be reckoned with. Unleash its potential and watch it flip seamlessly. This disc embodies the spirit of adaptability, offering players the versatility needed for strategic shot shaping throughout any course.
The First Run Cicada finds its rightful place in Discraft's lineup. It doesn't just belong; it thrives, elevating the game of disc golf and complementing the brand's legacy of producing outstanding discs. This isn't merely a fairway driver; it's an evolution, a testament to Discraft's continuous journey towards excellence.
Welcome the Cicada into your collection, and let it be the symbol of your game's rise!