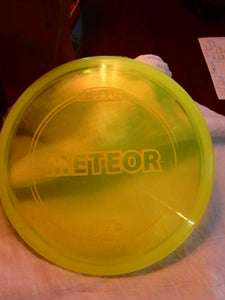 Lemon yellow disc with a solid mustard yellow stamp. Awesome.
As one of the understable midrange discs in Discraft's lineup, the Meteor is great for controlled turnover throws. If you are right handed, throw backhand, and need a disc that is going to fly to the right, this is the disc you're looking for. The Meteor will turn and glide giving beginners more control and distance
Speed: 4.0
Glide: 5.0
Turn: -3.0
Fade: 1.0
Primary Use: Mid Range
Stability: Understable
Recommended Skill Level: Beginner, Everyone
Beadless
Blue Dog Favorite.